ASME B16.11 Standard 90degree Scoket Weld Elbow
Forged socket weld elbow is available in 90 degree and 45 degree that used to connect the ASME pipe to fittings or valves by fillet seal welding. It has varieties of features such as reliability, durability and dimensional precision.
Content
Socket weld fittings refers to a pipe inserted in to a recessed area another pipe or fittings. It is using seal welding process as they are usually in small dimensions below 2 inch. Manufacturing standards complied to ASME B16.11. Material also in carbon, alloy and stainless steel.  Pipe Elbow also called SW Elbow, it has 45 degree and 90 degree types. Manufacturing by forging process and also ranges in long radius (LR with 1.5 X OD) and short radius (SR with 1 X 0D) model, it has been a common socket weld fittings that used in the pipelines for changing the fluid directions.
| | |
| --- | --- |
| Shape | Elbow, Tee, Cross, Coupling, Union, Cap, Reducing Insert, Sockolet |
| Size Range | 1/8″ –  4″ / DN6 – DN100 |
| Pressure Rating | Class 3000lbs, 6000lbs, 9000lbs |
| Standard | ASME B16.11, BS3799, EN 10241, MSS SP-83, MSS SP-97 |
| Carbon Steel | ASTM A105 / A105N, ASTM A350 LF2/LF3, ASTM A694 F42 / 46 / 56 / 60 / 65, P235GH, P265GH, P280GH, P355GH |
| Alloy Steel | ASTM A182 F11 / 12 / 5 / 9 / 91 / 92 / 22 |
| Stainless Steel | ASTM A182 F304/304L/304H, 316/316L, 321, 310S, 317, 347, 904L,1.4404, 1.4437. |
| Duplex Stainless Steel | ASTM A182 F51, F53, F44 |
Advantages
1. The pipe is no need beveling for preparation of weld.
2. The welding position can adjust to flat welding.
3. Generally no need temporary tack welding for alignment. This is because the fitting principle helps to ensure that the alignment is correct.
4. The socket weld metal is not be able to penetrate the bore of the pipe.
5. It has found that socket welding is more economical than butt welding. Due to elimination of special machines and reducing precision assembly requirements.
Disadvantages
1. The welder should be aware that there is an expansion gap about 1.6mm between the shoulder of the socket and the pipe​.
2. Internal cracks and expansion gaps in the socket welding system promote corrosion. This reason make them considered as less suitable for radio-active or corrosive applications.
3. These types of accessories are also unacceptable for ultra-high hydro-static pressures in the food industry. This is because, in addition to not allowing complete penetration, it leaves cracks and gaps which can become very difficult to clean.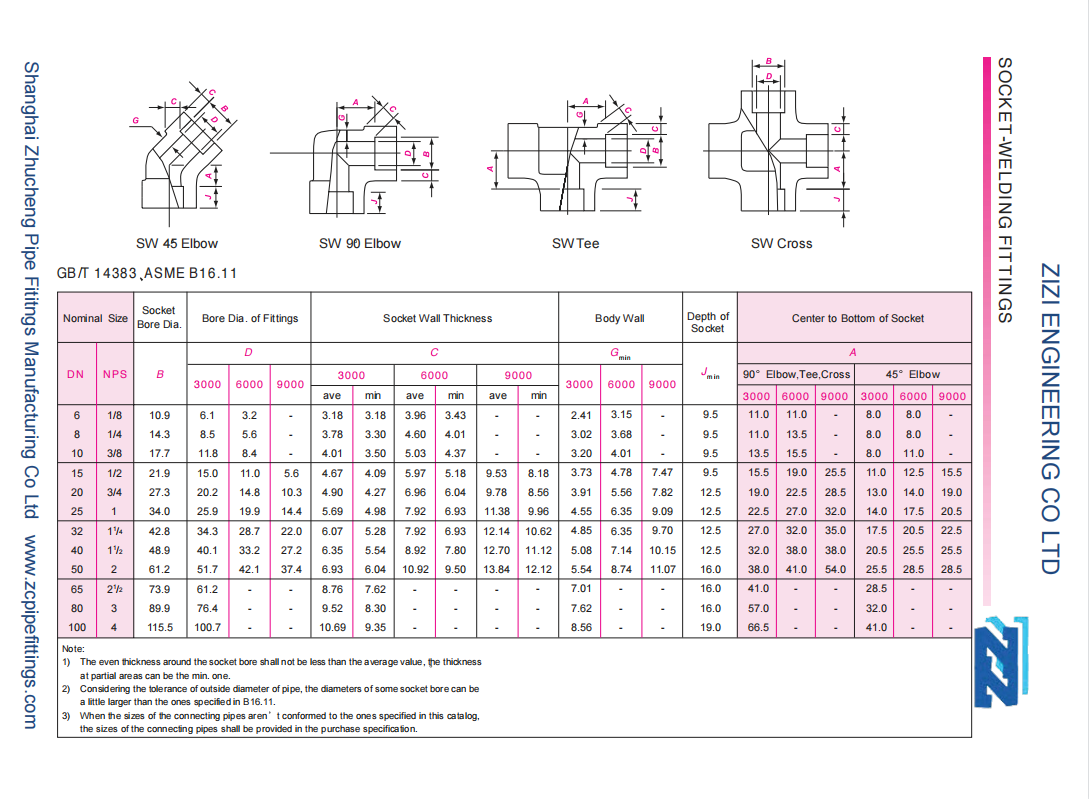 More Socket Weld Fittings