ASME B16.5 Stainless Steel Flange F316 Socket Weld Flange
There are varies advantages of stainless steel flange:
Resistant to corrosion and staining
Low maintenance
Bright familiar luster
Steel Strength
Content
ASME B16. 5 pipe flanges
ASME B16.5 is the standard of high pressure pipe flanges. The most used flange types ASME B16.5 are Welding Neck, Slip On, Socket Weld, Lap Joint, Threaded and Blind flange.
ASME B16. 5 is limited to flanges and flanged fittings made from cast or forged materials, and blind flanges and certain reducing flanges made from cast, forged, or plate materials. Also included in this Standard are requirements and recommendations regarding flange bolting, flange gaskets, and flange joints.
The difference of carbon steel flange and stainless steel flange
Carbon steel flange, that is, the body material is carbon steel plate or end flange connection. The flanges containing carbon steel are called carbon steel flanges. Common materials are carbon steel ASTM A105 / A105N, ASTM A350 LF2/LF3, ASTM A694 F42 / 46 / 56 / 60 / 65, P235GH, P265GH, P280GH, P355GH. Besides carbon steel flanges, we also supply alloy steel flanges and stainless steel flanges .
Stainless steel flange, also called SS flange, it means the material of flange is stainless steel. Common material standards and Grades are ASTM A182 Grade F304/L and F316/L, with pressure ratings from Class 150, 300, 600 etc and to 2500. It used in more industries than carbon steel as stainless steel has better resistant performances on corrosion environment and always provides with a good appearance.
There are varies advantages of stainless steel flange:
Resistant to corrosion and staining
Low maintenance
Bright familiar luster
Steel Strength
Forged Steel Flanges Specification
Shape
Weld Neck Flange ( WN),Slip-on Flange (SO), Threaded Flange (THD),Socket Weld Flange (SW),Blind Flange (BL),Lap Joint Flange (LAPJ),Plate flange (PL)
Size Range
1/2″ – 48″/ DN15 – DN1200
Pressure Rating
Class 150, 300, 600, 900, 1500, 2500lb
Standard
ASME B16.5, ASME B16.47 Series A/B, EN 1092-1, API 605, MSS SP-44, DIN 2627, DIN 2527, DIN 2558, DIN 2576, DIN 2641, DIN 2655, DIN 2656, DIN2573
Carbon Steel
ASTM A105 / A105N, ASTM A350 LF2/LF3, ASTM A694 F42 / 46 / 56 / 60 / 65, P235GH, P265GH, P280GH, P355GH
Alloy Steel
ASTM A182 F11 / 12 / 5 / 9 / 91 / 92
Stainless Steel
ASTM A182 F304/304L/304H, 316/316L, 321, 310S, 317,347,904L, 1.4404, 1.4437.
Duplex Stainless Steel
ASTM A182 F51, F53, F44
Socket Weld Flange
A Socket Weld Fittings is a pipe attachment detail in which a pipe is inserted into a recessed area of a Valve, fitting or flange. Once correctly inserted, fillet type sealing welds are applied to join the pipe to the fitting.
Socket weld flange simplified as SW flange, it has a recessed area (like a shoulder) in the flange bore, this shoulder serves as a guide to set the depth of the pipe that inserted to the flange. Socket welding flange initially designed for high pressure small diameters piping system.
The connection with the pipe is done with 1 fillet weld, at the outside of the flange. But before welding, a space must be created between flange or fitting and pipe.
600# Forged Steel Flange
A flange can be defined as a method that helps in connecting pipes, valves, etc., to form a full piping system. There are six flange classes ranging from #150 to #2500. Governed by B 16.5 standards, the ASME B16. 5 Class 600 Flange provides a pressure capacity of 600Lb.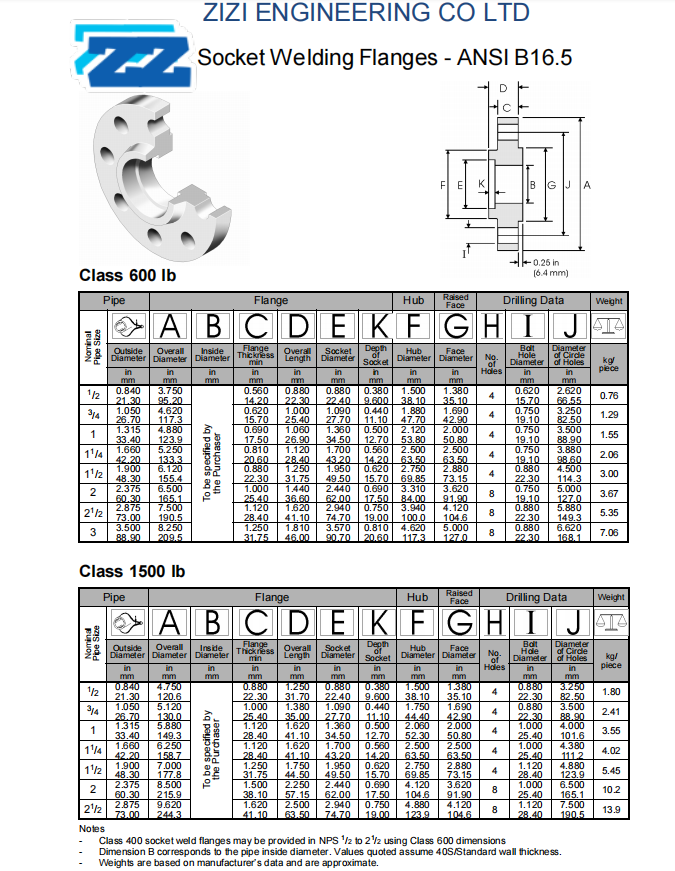 More Forged Steel Flanges