Carbon Steel ASTM A105 Forged Steel Flanges Dimension
Forged Steel Flanges Specification
Shape: Weld Neck Flange ( WN),Slip-on Flange (SO), Threaded Flange (THD),Socket Weld Flange (SW),Blind Flange (BL),Lap Joint Flange (LAPJ),Plate flange (PL)
Size Range: 1/2″ – 48″/ DN15 – DN1200
Pressure Rating: Class 150, 300, 600, 900, 1500, 2500lb
Standard: ASME B16.5, ASME B16.47 Series A/B, EN 1092-1, API 605, MSS SP-44, DIN 2627, DIN 2527, DIN 2558, DIN 2576, DIN 2641, DIN 2655, DIN 2656, DIN2573
Carbon Steel: ASTM A105 / A105N, ASTM A350 LF2/LF3, ASTM A694 F42 / 46 / 56 / 60 / 65, P235GH, P265GH, P280GH, P355GH
Content
Carbon Steel ASTM A105 Flanges
ASTM A105 is the common material of carbon steel forged steel pipe fittings and flanges. Size range is 1/2″ – 48″/ DN15 – DN1200. We will check the quality and dimension of flanges when delivery.
ASTM A105 flange is used for installing or repairing piping or tubing systems that convey liquid, gas, and occasionally solid materials. SA 105 flanges comes in a variety of sizes to fit the pipe they will connect. It is useful to combine, divert or reduce the flow of the water supply.
Carbon steel flange, that is, the body material is carbon steel plate or end flange connection. The flanges containing carbon steel are called carbon steel flanges. Common materials are carbon steel ASTM A105 / A105N, ASTM A350 LF2/LF3, ASTM A694 F42 / 46 / 56 / 60 / 65, P235GH, P265GH, P280GH, P355GH. Besides carbon steel flanges, we also supply alloy steel flanges and stainless steel flanges .
Slip on flange can be made by forging, steel cutting, casting and etc. Among these manufacturing types, the forging type gains the best quality and also the most common use.
Slip on flange, also called SO flange. It's a kind of flange slides over the pipe with internal design is slightly larger than the pipe. Since the inner diameter of the flange is slightly larger than the outer diameter of the pipe, the SO flange can be directly connected to equipment or pipe by fillet weld at the top and bottom of the flange. It is used to insert the pipe into the inner hole of the flange.
Slip On Flange Dimension
The distance from the center of the flange hole, as the name suggests, refers to the distance between the centers of the two opposite holes on the flange.
Flange center distance is the distance from the center of the flange bolt hole to the center of the diagonal bolt hole. When measuring, take the distance from the inside of one end of the bolt hole (as shown in the figure above) to the outside of the diagonal bolt hole as the center moment of the flange. To ensure the correct installation of telescopic energy saving, the bolt diameter and number of holes should also be measured.
Forged Steel Flanges Specification
Shape
Weld Neck Flange ( WN),Slip-on Flange (SO), Threaded Flange (THD),Socket Weld Flange (SW),Blind Flange (BL),Lap Joint Flange (LAPJ),Plate flange (PL)
Size Range
1/2″ – 48″/ DN15 – DN1200
Pressure Rating
Class 150, 300, 600, 900, 1500, 2500lb
Standard
ASME B16.5, ASME B16.47 Series A/B, EN 1092-1, API 605, MSS SP-44, DIN 2627, DIN 2527, DIN 2558, DIN 2576, DIN 2641, DIN 2655, DIN 2656, DIN2573
Carbon Steel
ASTM A105 / A105N, ASTM A350 LF2/LF3, ASTM A694 F42 / 46 / 56 / 60 / 65, P235GH, P265GH, P280GH, P355GH
Alloy Steel
ASTM A182 F11 / 12 / 5 / 9 / 91 / 92
Stainless Steel
ASTM A182 F304/304L/304H, 316/316L, 321, 310S, 317,347,904L, 1.4404, 1.4437.
Duplex Stainless Steel
ASTM A182 F51, F53, F44
Slip On Flange Specification and Drawing
A flange can be defined as a method that helps in connecting pipes, valves, etc., to form a full piping system. There are seven flange classes ranging: #150, #300,#400, #600, #900, #1500 #2500. Governed by B 16.5 standards, the ASME B16. 5 Class 900 Flange provides a pressure capacity of 600Lb, Class 1500 Flange provides a pressure capacity of 1500Lb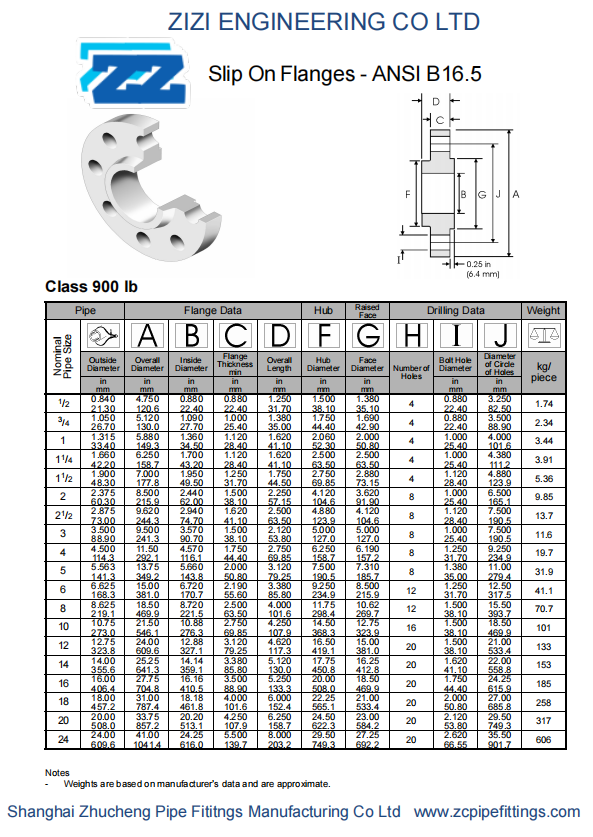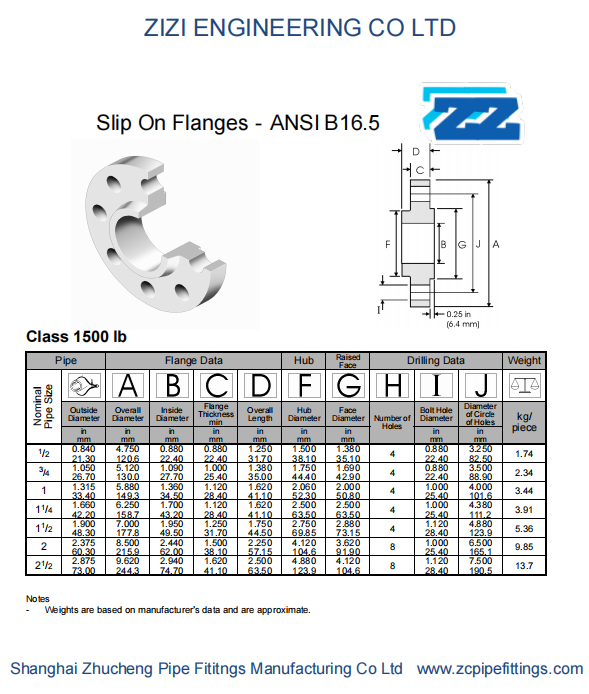 More Forged Steel Flanges