NPT Carbon Steel Threaded Pipe Coupling for Piping System
Threaded Pipe Fittings Specification
Shape: Elbow,Tee, Cross, Coupling, Cap, Swage Nipple, Bushing, Plug, Nipple, Union, Hex Nipple,Threadolet.
Size Range: 1/8″ –  4″ / DN6 – DN100
Pressure Rating: Class 2000lbs, 3000lbs, 6000lbs
Thread Type: NPT, PT, BSPP, BSPT, PF
Standard: ASME B16.11, BS3799, EN 10241, MSS SP-83, MSS SP-97
Content
Threaded Coupling is a short piece with screw in NPT or BSP ends or one end, which is available in stainless steel, alloy steel and carbon steel. The size range is DN6-DN100. The common grade of Carbon Steel Threaded Pipe Coupling is ASTM A105/A105N
The American National Pipe Thread Tapered, is the best known and most widely used connection where the pipe thread provides both the mechanical joint and the hydraulic seal. NPT has a tapered male and female thread which seals with Teflon tape or jointing compound. Dimensions of American Taper Pipe Thread, with Sealant Compound.
Forged threaded pipe fittings are named by its manufacturing forging process and produced according to ASME B16.11, MSS-SP-79\83\95\97 and BS3799 standards. It is a connector in between nominal bore pipes. Their material can be made of carbon steel A105 and stainless steel SS316 & 304. Threaded fittings are mainly used for small pipe diameters, generally for piping whose nominal diameter is NPS 2 or smaller. Threaded joints probably represent the oldest method of joining piping systems.
Steel pipe elbow can be divided into 3 types as buttweld, threaded, socket weld in accordance with connection. The material specification are ASTM A234, A182, A403, A105, A694, A350, A420 and A860.
Threaded Pipe Fittings Specification
Shape
Elbow,Tee, Cross, Coupling, Cap, Swage Nipple, Bushing, Plug, Nipple, Union, Hex Nipple,Threadolet.
Size Range
1/8″ –  4″ / DN6 – DN100
Pressure Rating
Class 2000lbs, 3000lbs, 6000lbs
Thread Type
NPT, PT, BSPP, BSPT, PF
Standard
ASME B16.11, BS3799, EN 10241, MSS SP-83, MSS SP-97
Carbon Steel
ASTM A105 / A105N, ASTM A350 LF2/LF3, ASTM A694 F42 / 46 / 56 / 60 / 65, P235GH, P265GH, P280GH, P355GH
Alloy Steel
ASTM A182 F11 / 12 / 5 / 9 / 91 / 92 / 22
Stainless Steel
ASTM A182 F304/304L/304H, 316/316L, 321, 310S, 317, 347, 904L,1.4404, 1.4437.
Duplex Stainless Steel
ASTM A182 F51, F53, F44
Stainless Steel Coupling Drawing and Dimension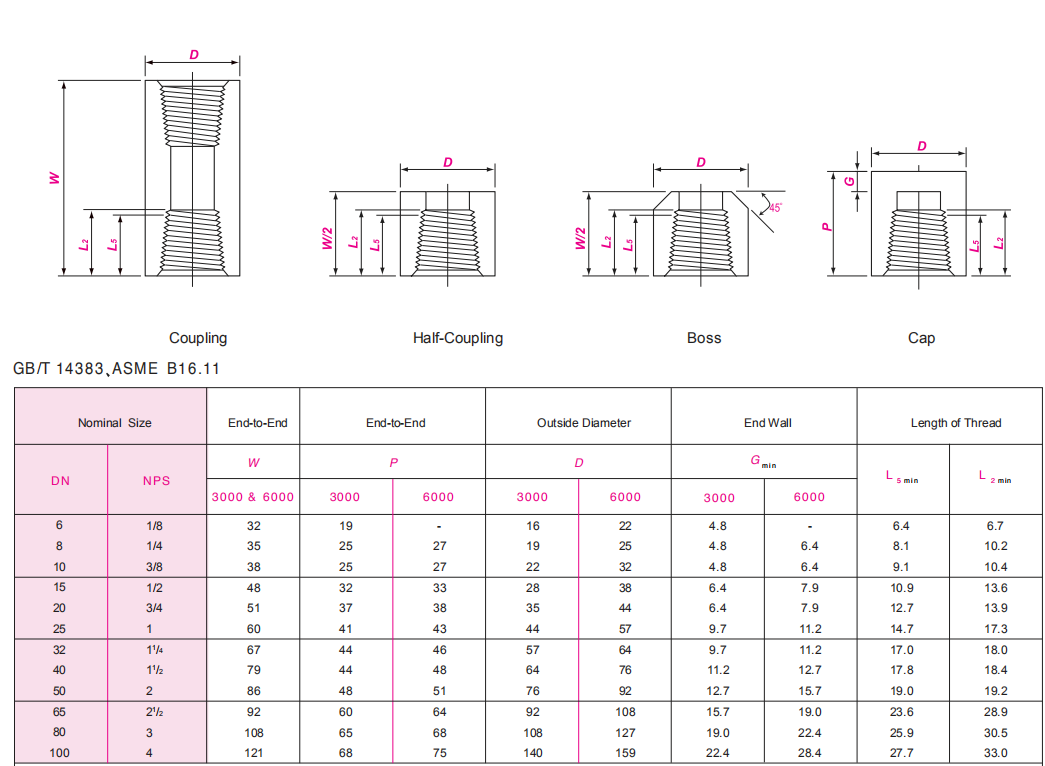 Application of Threaded Pipe Fittings
Oil and Gas
Chemical
Water Pipeline
Noncritical Applications
Power station
Fire Protection
More Threaded Pipe Fitings