Pipe Fittings Swage Nipple
Double threaded Swage Nipplet:Swage Nipple with external threads at both ends. The screw plug is used to plug the external thread pipe fittings at the end of the pipe, including square head pipe plug, hexagonal pipe plug, etc.
Content
Swaging nipple (also known as reducing nipple) is a forged pipe fitting. It is used to change the diameter of the pipe and connect two pipes of different sizes.
Shapes:
Concentric: Concentric swage nipple is mainly used for vertical pipeline.
Eccentric: eccentric swage nipple is mainly used in horizontal pipelines.
End Types:
PBE=Plain Both Ends
PLE=Plain Large End
PSE=Plain Small End
POE=Plain One End
TOE=Thread One End
TBE=Thread Both Ends
TLE=Thread Large End
TSE=Thread Small End
BBE=Bevel Both Ends
BLE=Bevel Large End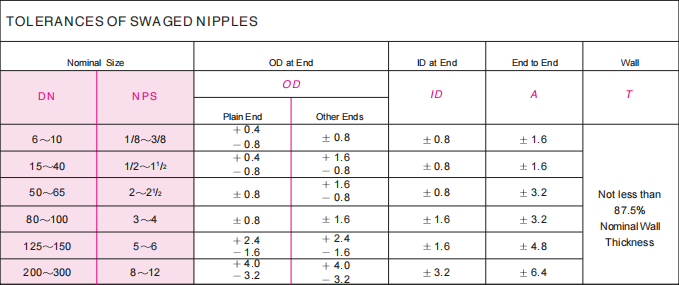 Water supply facilities
Food industrial pipelines
Chemical industrial pipelines
Electronic industrial pipelines
Air conditioning facility pipelines
Agriculture and garden production transportation
Pipeline network for solar energy facility
More Threaded Pipe Fitings