Reducing Tee Stainless Steel Pipe Fittings
There are two types of tees:Equal Tee and Reducing Tee.Stainless steel pipe fittings are popular because of the an-ti corrosive function.Stainless steel pipe fittings can used over 50 years.
Content
Steel pipe tee is a T-shaped pipe fitting with three branch pipes. It is used to divide pipes to adjust flow and change direction.Tees could be butt welded fittings or forged fittings.The stainless steel pipe fittings in the picture are sw reducing tees,these fittings are belong to forged fitting.
The two types of tee are Equal and Reducing.
Equal Tee
Equal diameter tee, also known as straight tee, the branch diameter of the tee is the same as the pipe diameter of the tee.
Reducing Tee
The reducing tee has two outlets cut at 90 degrees with the main pipe, and the size of the branch pipe is smaller than the port of the pipeline.
The end of Butt welded fittings are connected to the pipe system by butt welding.Butt weld fittings provide permanent leak-proof performance.BW fittings could made from seamless or welded pipe,and then through several processes formed to get the shape of pipe fittings.The type of the ends could be PE(plain end),BE(bevelled end) and THD(threaded end).
Equal Tee VS Reducing Tee
Steel Equal Tee pipe fittings: The three branches of tee have same diameters.
Steel Reducing Tee: The branch diameter is smaller than the main line diameter. Tee reducer is usually described as NPS diameters in 4"x 4"x 3", 4"is the main line pipe diameter, and 3"is the reducing branch.
SPECIFICATION
| | |
| --- | --- |
| Shape |  Tee |
| Size Range | 1/8″ –  4″ / DN6 – DN100 |
| Pressure Rating | Class 3000lbs, 6000lbs, 9000lbs |
| Standard | ASME B16.11, BS3799, EN 10241, MSS SP-83, MSS SP-97 |
| Carbon Steel | ASTM A105 / A105N, ASTM A350 LF2/LF3, ASTM A694 F42 / 46 / 56 / 60 / 65, P235GH, P265GH, P280GH, P355GH |
| Alloy Steel | ASTM A182 F11 / 12 / 5 / 9 / 91 / 92 / 22 |
| Stainless Steel | ASTM A182 F304/304L/304H, 316/316L, 321, 310S, 317, 347, 904L,1.4404, 1.4437. |
| Duplex Stainless Steel | ASTM A182 F51, F53, F44 |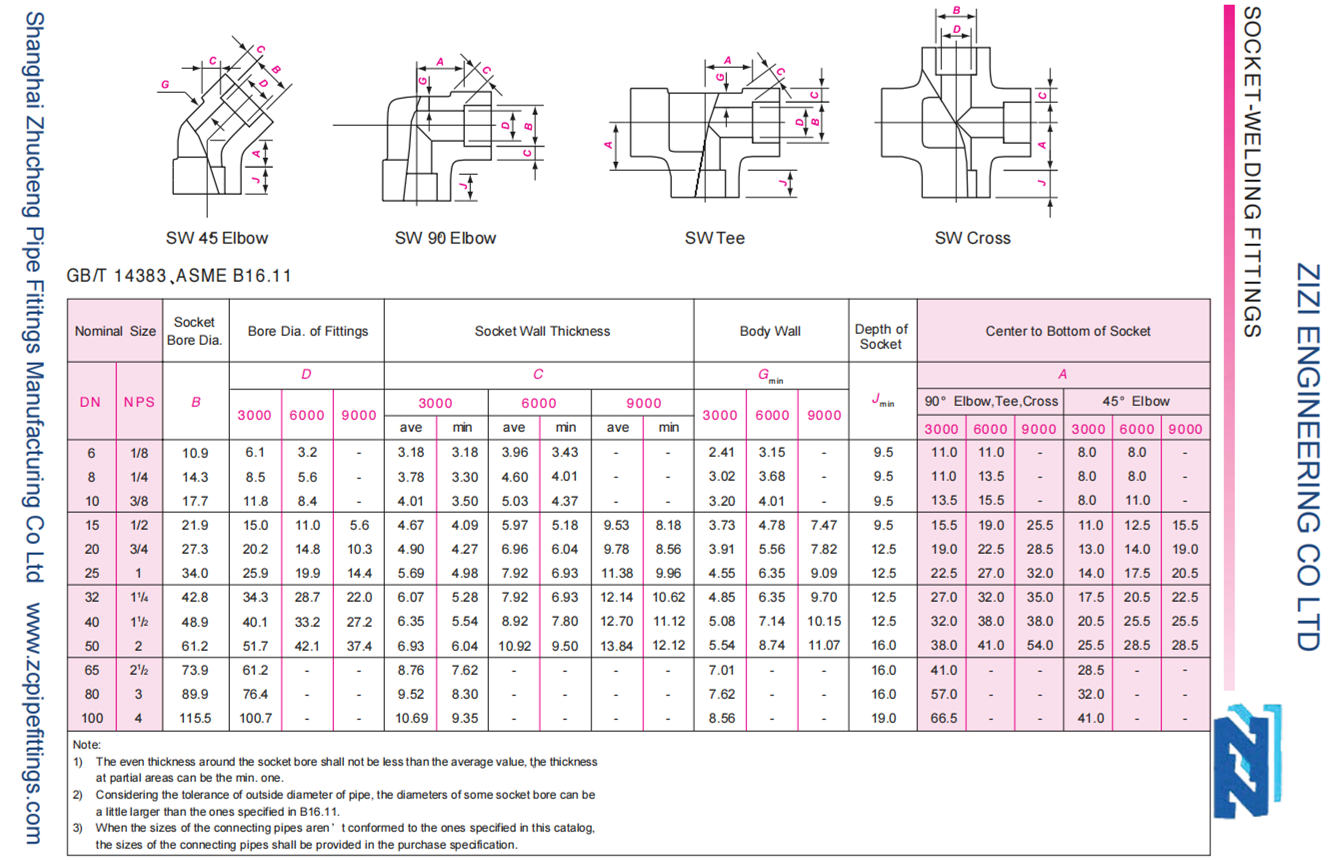 More Socket Weld Fittings