Socket Weld Forged Coupling Fittings Supplier China
Couplings are used to help extend or terminate runs and to change pipe sizes and are designed to provide good flow characteristics. We supplied many A105 carbon steel and 316 stainless steel socket weld fittings to customers. Socket Weld Fittings are a family of high pressure forging fittings that used only in conjunction with ANSI Pipe and are available in the same size range.
Content
socket weld full coupling Pipe Fittings are forged products. These socket weld full coupling dimensions can be classified based on their pressure & temperature rating. Socket weld fittings like the bsp full coupling dimensions are available from NPS 1/8 inch to 4 inches. These stainless steel full coupling fittings are available in 3 pressure-temperature rating classes.3000 & 6000 class fittings are available in both Threaded as well as Socket Weld type of fittings such as the Socket Weld Full Coupling.
9000 class fittings are available in only socket weld type of fitting including the ss Full Coupling.
| | |
| --- | --- |
| Shape | Elbow, Tee, Cross, Coupling, Union, Cap, Reducing Insert, Sockolet |
| Size Range | 1/8″ –  4″ / DN6 – DN100 |
| Pressure Rating | Class 3000lbs, 6000lbs, 9000lbs |
| Standard | ASME B16.11, BS3799, EN 10241, MSS SP-83, MSS SP-97 |
| Carbon Steel | ASTM A105 / A105N, ASTM A350 LF2/LF3, ASTM A694 F42 / 46 / 56 / 60 / 65, P235GH, P265GH, P280GH, P355GH |
| Alloy Steel | ASTM A182 F11 / 12 / 5 / 9 / 91 / 92 / 22 |
| Stainless Steel | ASTM A182 F304/304L/304H, 316/316L, 321, 310S, 317, 347, 904L,1.4404, 1.4437. |
| Duplex Stainless Steel | ASTM A182 F51, F53, F44 |
Differences between socket weld and butt weld fittings
In the case of SW fittings, referred standard is ASME B16.11. Here, a pipe could be inserted in to a recessed area of the fitting. Both the fitting and the pipe shall be square cut and do not require any preparation or beveled end other than cleaning the outside. This will easy the installation and welding processes.
As for butt weld BW fittings, referred standard is ASME B16.9. with their ends being welded on to the pipe end, the thickness would be the same as those of pipes. In this case, the end of the fittings could be beveled.
How to install – Socket weld vs Butt weld
In case of SW fittings, you will find them to be quite easy to install. Since it requires around 1/6 inches of gap at the bottom of the gap in order to allow the socket access, it also allow thermal expansion. However, this gap could then lead to the problem of over stress which will crack the fillet weld of the fitting. In addition, socket weld has also been found to be problematic in corrosive fluid service as a result of crevice corrosion. Also, it has been found to corrode quite easily due to the discontinuity of smooth pipe internals.
On the other hand, butt weld fittings have been found to be the best in terms of fatigue, strength, compliance with temperature, and resistance to corrosion. However, it could also be more difficult to weld and fit-up properly. Which requires more time and the expertise of skilled welders.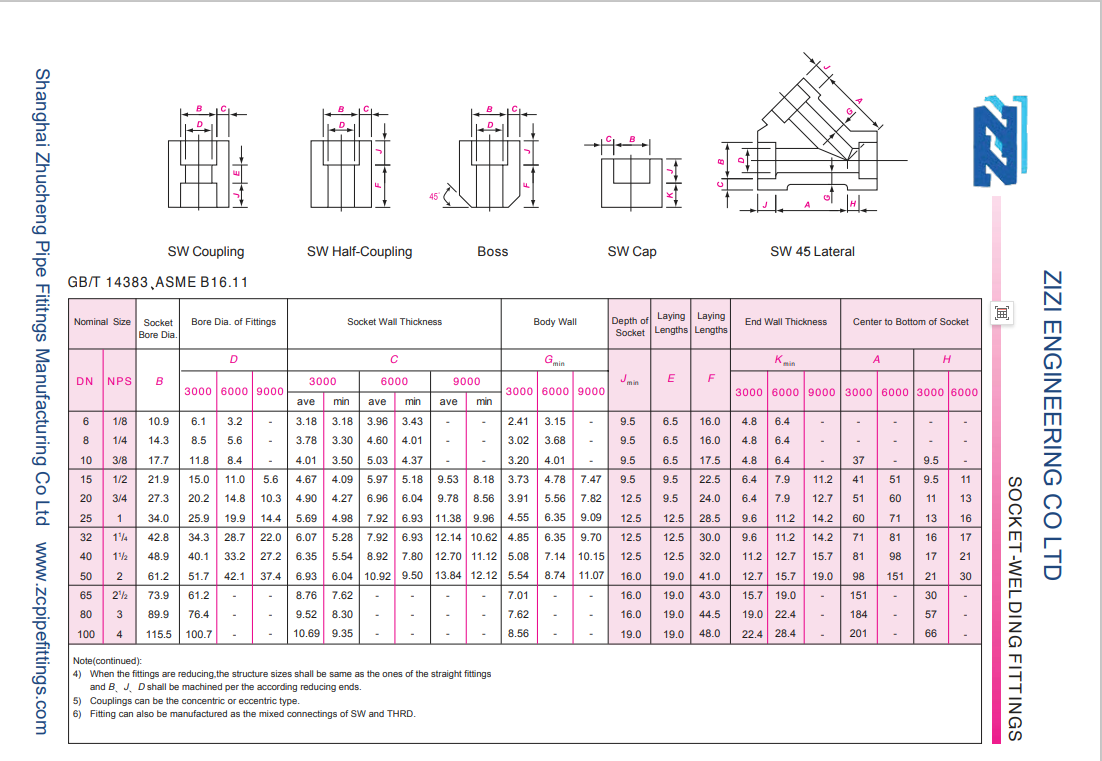 Application differences between SW and BW fittings
The socket weld usually resist around half the strength of butt weld fittings. Hence, SW fittings is mainly used for small pipelines with diameters NPS 2 or even smaller.
On the other hand, butt weld fittings helps to keep better strength. And better for high temperature or high pressure pipelines.
It also could be used when a welded joint with strength not greater than that of the base metal would be needed.
More Socket Weld Fittings