DN150 SW Flange CL150 Forged Flange
DN150 SW flange is a 6in flange used to socketed with the pipes and then welding on pipes.CL150 forged flange is the lowest pressure flange.Flanges have many pressures:CL150, CL300, CL600, CL900, CL1500, CL2500.
Content
DN 150 SW (soket weld) flange is 6 in flange which is a commonly used size of flanges.CL150 forged flange is one type of high pressure flanges.There are many pressures for flanges:CL150, CL300, CL600, CL900, CL1500, CL2500.
Socket weld flange simplified as SW flange, it has a recessed area (like a shoulder) in the flange bore, this shoulder serves as a guide to set the depth of the pipe that inserted to the flange. Socket welding flange initially designed for high pressure small diameters piping system.
Face:
Raised face,  Flat face,  RTJ facing.
These pipe flanges are attached by inserting the pipe into the socket end and applying fillet weld around the top. This allows for a smooth bore and better flow of the fluid or gas inside of the pipe. The connection with the pipe is done with 1 fillet weld, at the outside of the flange. But before welding, a space must be created between flange or fitting and pipe.
Advantages:
Socket weld flange could replace threaded flange, to minimize the risky of leakage.
No need to beveling before welding.
Welding work outside of the pipe, will not penetrate the pipe bore.
It is recommended for applications where internal welding operations are particularly difficult.
Better fatigue life.
Disadvantages:
Clearance must be left. Cracks between pipes and flanges can cause corrosion problems, mainly in stainless steel piping systems.
In some processes this flange is also not allowed.
SPECIFICATION
| | |
| --- | --- |
| Shape | Socket Weld Flange (SW) |
| Size Range | 1/2″ – 48″/ DN15 – DN1200 |
| Pressure Rating | Class 150, 300, 600, 900, 1500, 2500lb |
| Standard | ASME B16.5, ASME B16.47 Series A/B, EN 1092-1, API 605, MSS SP-44, DIN 2627, DIN 2527, DIN 2558, DIN 2576, DIN 2641, DIN 2655, DIN 2656, DIN2573 |
| Carbon Steel | ASTM A105 / A105N, ASTM A350 LF2/LF3, ASTM A694 F42 / 46 / 56 / 60 / 65, P235GH, P265GH, P280GH, P355GH |
| Alloy Steel | ASTM A182 F11 / 12 / 5 / 9 / 91 / 92 |
| Stainless Steel | ASTM A182 F304/304L/304H, 316/316L, 321, 310S, 317,347,904L, 1.4404, 1.4437. |
| Duplex Stainless Steel | ASTM A182 F51, F53, F44 |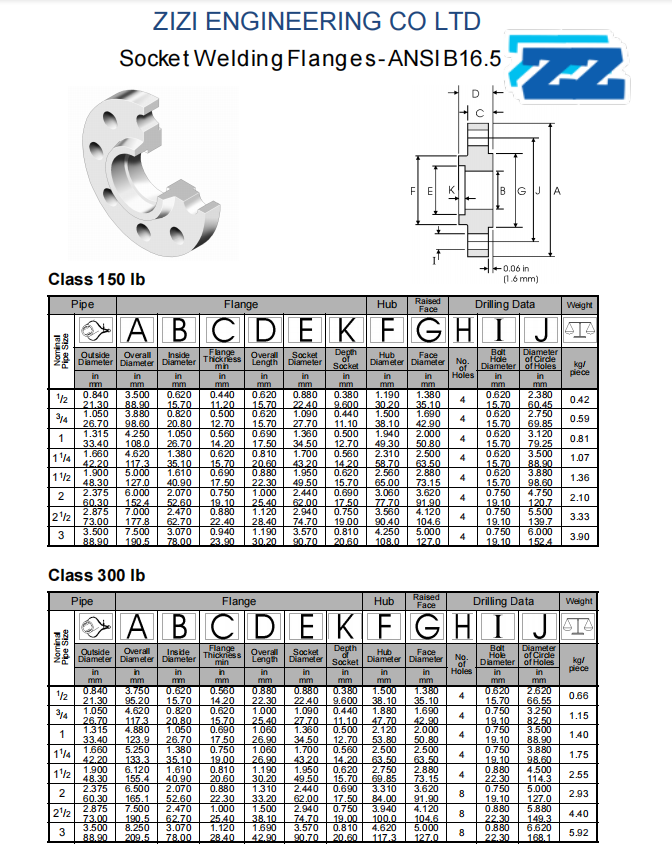 Applications:
An assembly with limited space may be an instance in which a socket weld is selected, provided the pressure class is comparatively low and the fluid is not corrosive or for extremely high temperature service.
More Forged Steel Flanges