150 LB Threaded Flanges Stainless Steel 316L Flanges
150LB threaded flanges are one types of flanges.Other types of flanges are WN,SO,SW,LAPJ,BL.Stainless steel 316L flanges are popular in many corrosive environments because of the excllent corrosion resistance.Flanges have many pressures:CL150, CL300, CL600, CL900, CL1500, CL2500.
Content
150lb threaded (THD) flanges are popular type of flanges as the threaded flanges are convenience for Installation and removal.Although Stainless steel 316L flanges are expensive but they are popular because of the superior functions.
The threaded flange design (also called a 'screwed flange') uses a screw thread to connect the flange to a pipe. A male thread is cut onto a pipe end whilst a female thread is cut into the bore of the flange; the male threaded pipe is then screwed into the female threaded flange.
Types:
Seal the two tube ends with a certain sealing surface and lens gasket. This flange is mainly used in ammonia production. However, its service time is short, and the lens pad has been replaced by a metal ring.
The other type is the same as a normal flange, sealed with two flange sealing face.
Advantages:
The threaded flange joint can be assembled without welding.
It is suitable for working in extreme pressure environment under normal ambient temperature and high explosive area where welding may cause danger.
Disadvantages:
The crevices formed between the external and internal threads may easily capture and retain process fluid. This makes the threaded connection susceptible to crevice corrosion during which process fluid penetrates the thread region and results in failure.
Since stress is drastically intensified in the thread region due to tightening, a relatively few cycles of expansion and contraction or movement caused by misalignment may subject the threaded flange to failure.
SPECIFICATION
| | |
| --- | --- |
| Shape | Threaded Flange (THD) |
| Size Range | 1/2″ – 48″/ DN15 – DN1200 |
| Pressure Rating | Class 150, 300, 600, 900, 1500, 2500lb |
| Standard | ASME B16.5, ASME B16.47 Series A/B, EN 1092-1, API 605, MSS SP-44, DIN 2627, DIN 2527, DIN 2558, DIN 2576, DIN 2641, DIN 2655, DIN 2656, DIN2573 |
| Carbon Steel | ASTM A105 / A105N, ASTM A350 LF2/LF3, ASTM A694 F42 / 46 / 56 / 60 / 65, P235GH, P265GH, P280GH, P355GH |
| Alloy Steel | ASTM A182 F11 / 12 / 5 / 9 / 91 / 92 |
| Stainless Steel | ASTM A182 F304/304L/304H, 316/316L, 321, 310S, 317,347,904L, 1.4404, 1.4437. |
| Duplex Stainless Steel | ASTM A182 F51, F53, F44 |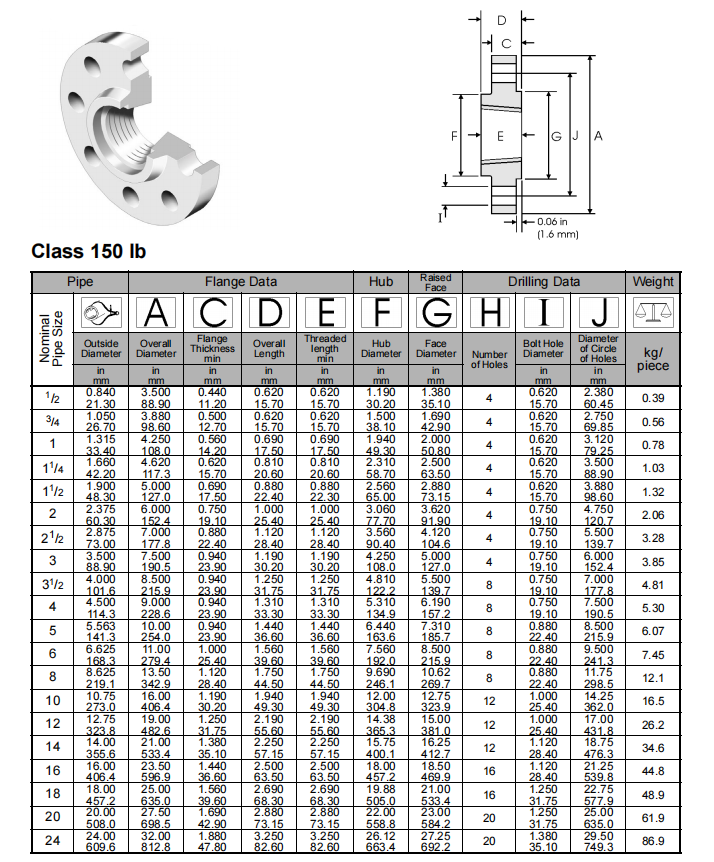 Applications:
Threaded steel flanges are usually limited to water or air services for sizes NPS 6 (DN 150) or smaller and with design temperature not exceeding 250°F. They are not suitable for conditions involving high temperatures, cyclic stresses, or corrosive fluid.
More Forged Steel Flanges