ASME B16.11 High Pressure Thread Tee Pipe Fittings BSPP3799
Shapes:
Equal:This is a Pipe fitting with the same size on three sides.
Reducing:The main pipe of these tee is different from the diameter of the branch pipe, and the diameter of the main pipe is larger than that of the branch pipe.
Content
ASME B16.11 High Pressure Thread Tee BSPP is a "T" type pipe fitting. The branch pipe has two outlets and is perpendicular to the main pipe. It is used to change the direction of the pipe so that the pipe is 90 degrees perpendicular to the pipe.ASME B16.11 Threaded Tee is very much resistant to chemical corrosion and oxidation (corrosion resistant), and has some high stress-rupture effectiveness and low creep rates under high stresses at temperatures after suitable heat treatment.Threaded Equal Tee is either used to combine or split a fluid flow, Threaded Pipe Tee have the same inlet and outlet sizes. Threaded Tee Fittings are used in different industries applications like chemical processing, oil refineries, petrochemical and many other industries.We also supply Forged Threaded Tee in customized size as per customer requirement.
| | |
| --- | --- |
| Shape | Elbow,Tee, Cross, Coupling, Cap, Swage Nipple, Bushing, Plug, Nipple, Union, Hex Nipple,Threadolet. |
| Size Range | 1/8″ –  4″ / DN6 – DN100 |
| Pressure Rating | Class 2000lbs, 3000lbs, 6000lbs |
| Thread Type | NPT, PT, BSPP, BSPT, PF |
| Standard | ASME B16.11, BS3799, EN 10241, MSS SP-83, MSS SP-97 |
| Carbon Steel | ASTM A105 / A105N, ASTM A350 LF2/LF3, ASTM A694 F42 / 46 / 56 / 60 / 65, P235GH, P265GH, P280GH, P355GH |
| Alloy Steel | ASTM A182 F11 / 12 / 5 / 9 / 91 / 92 / 22 |
| Stainless Steel | ASTM A182 F304/304L/304H, 316/316L, 321, 310S, 317, 347, 904L,1.4404, 1.4437. |
| Duplex Stainless Steel | ASTM A182 F51, F53, F44 |
Stainless Steel Forged Threaded Tee : 
ASTM A182 F304, F304L, F306, F316L, F304H, F309S, F309H, F310S, F310H, F316TI, F316H, F316LN, F317, F317L, F321, F321H, F11, F22, F91, F347, F347H, F904L, ASTM A312/A403 TP304, TP304L, TP316, TP316L
Duplex & Super Duplex Steel Forged Threaded Equal Tee: 
ASTM A 182 – F 51, F53, F55 S 31803, S 32205, S 32550, S 32750, S 32760, S 32950.
Carbon Steel Forged Threaded Tee: 
ASTM/ ASME A 105, ASTM/ ASME A 350 LF 2, ASTM / ASME A 53 GR. A & B, ASTM A 106 GR. A, B & C. API 5L GR. B, API 5L X 42, X 46, X 52, X 60, X 65 & X 70. ASTM / ASME A 691 GR A, B & C
Alloy Steel Forged Threaded Equal Tee : 
ASTM / ASME A 182, ASTM / ASME A 335, ASTM / ASME A 234 GR P 1, P 5, P 9, P 11, P 12, P 22, P 23, P 91, ASTM / ASME A 691 GR 1 CR, 1 1/4 CR, 2 1/4 CR, 5 CR, 9CR, 91
Copper Alloy Steel Forged Threaded Tee : ASTM / ASME SB 111 UNS NO. C 10100 , C 10200 , C 10300 , C 10800 , C 12000, C 12200, C 70600 C 71500, ASTM / ASME SB 466 UNS NO. C 70600 ( CU -NI- 90/10) , C 71500 ( CU -NI- 70/30)
Nickel Alloy Forged Threaded Equal Tee: 
ASTM / ASME SB 336, ASTM / ASME SB 564 / 160 / 163 / 472, UNS 2200 (NICKEL 200) , UNS 2201 (NICKEL 201 ) , UNS 4400 (MONEL 400 ) , UNS 8020 ( ALLOY 20 / 20 CB 3 ) , UNS 8825 INCONEL (825) , UNS 6600 (INCONEL 600 ) , UNS 6601 (INCONEL 601) , UNS 6625 (INCONEL 625) , UNS 10276 (HASTELLOY C 276)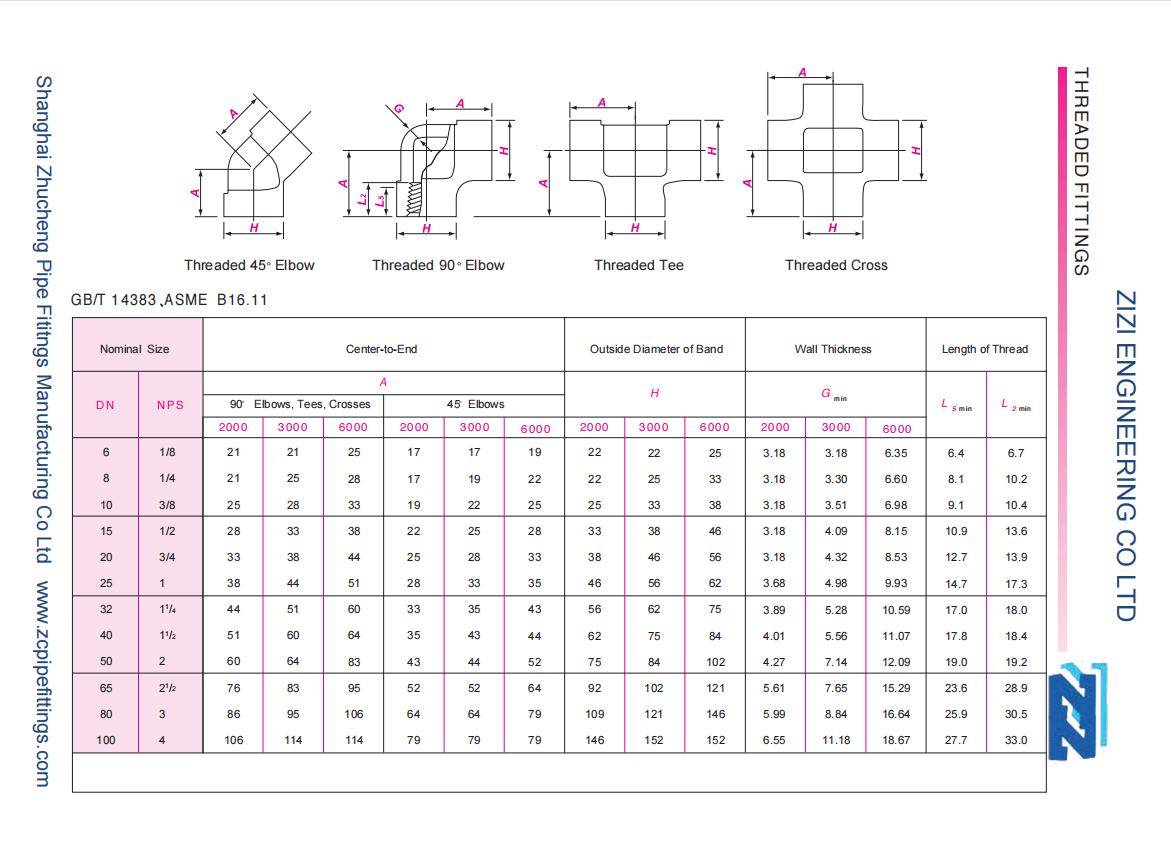 More Threaded Pipe Fitings