ASME B16.11 Forged Fittings Stainless Steel Pipe Fittings
ASME B16.11 forged fittings are popular because of the famous American Standard and the variety products.Socket weld (SW) fittings and threaded (THD) fittings are both forged fittings.Stainless steel pipe fittings are always chosen in corrosive and chemical environments.
Content
ASME B16.11 forged fittings are pipe fittings manufactured according to American Standard,including threaded (THD) fittings and socket weld (SW) fittings.The size range of forged firttings is 1/8″-4″.Stainless steel pipe fittings have better functions than carbon steel fittings,so it is popular even the stainless steel is more expensive.
The main difference between THD fittings and SW fittings is the connect method.
THD fittings use threaded connection to connect with pipes,there are some types of thread for customers to choose:NPT PT BSPP BSPT PF.
SW fittings could socket with the pipes and welded on it.
For couplings,Swage Nipple, Nipple,these forged fittings (THD and SW),these fittings could divided to have two types based on the ends:full type and half type.
Full Type:both ends used threaded or socket welded.
Half Type:one end is threaded(or socket weld),the other end is welded.
Threaded (THD) Fittings Specification 
| | |
| --- | --- |
| Shape | Elbow,Tee, Cross, Coupling, Cap, Swage Nipple, Bushing, Plug, Nipple, Union, Hex Nipple,Threadolet. |
| Size Range | 1/8″ –  4″ / DN6 – DN100 |
| Pressure Rating | Class 2000lbs, 3000lbs, 6000lbs |
| Thread Type | NPT, PT, BSPP, BSPT, PF |
| Standard | ASME B16.11, BS3799, EN 10241, MSS SP-83, MSS SP-97 |
| Carbon Steel | ASTM A105 / A105N, ASTM A350 LF2/LF3, ASTM A694 F42 / 46 / 56 / 60 / 65, P235GH, P265GH, P280GH, P355GH |
| Alloy Steel | ASTM A182 F11 / 12 / 5 / 9 / 91 / 92 / 22 |
| Stainless Steel | ASTM A182 F304/304L/304H, 316/316L, 321, 310S, 317, 347, 904L,1.4404, 1.4437. |
| Duplex Stainless Steel | ASTM A182 F51, F53, F44 |
Socket Weld (SW) Fittings Specification
| | |
| --- | --- |
| Shape | Elbow, Tee, Cross, Coupling, Union, Cap, Reducing Insert, Sockolet |
| Size Range | 1/8″ –  4″ / DN6 – DN100 |
| Pressure Rating | Class 3000lbs, 6000lbs, 9000lbs |
| Standard | ASME B16.11, BS3799, EN 10241, MSS SP-83, MSS SP-97 |
| Carbon Steel | ASTM A105 / A105N, ASTM A350 LF2/LF3, ASTM A694 F42 / 46 / 56 / 60 / 65, P235GH, P265GH, P280GH, P355GH |
| Alloy Steel | ASTM A182 F11 / 12 / 5 / 9 / 91 / 92 / 22 |
| Stainless Steel | ASTM A182 F304/304L/304H, 316/316L, 321, 310S, 317, 347, 904L,1.4404, 1.4437. |
| Duplex Stainless Steel | ASTM A182 F51, F53, F44 |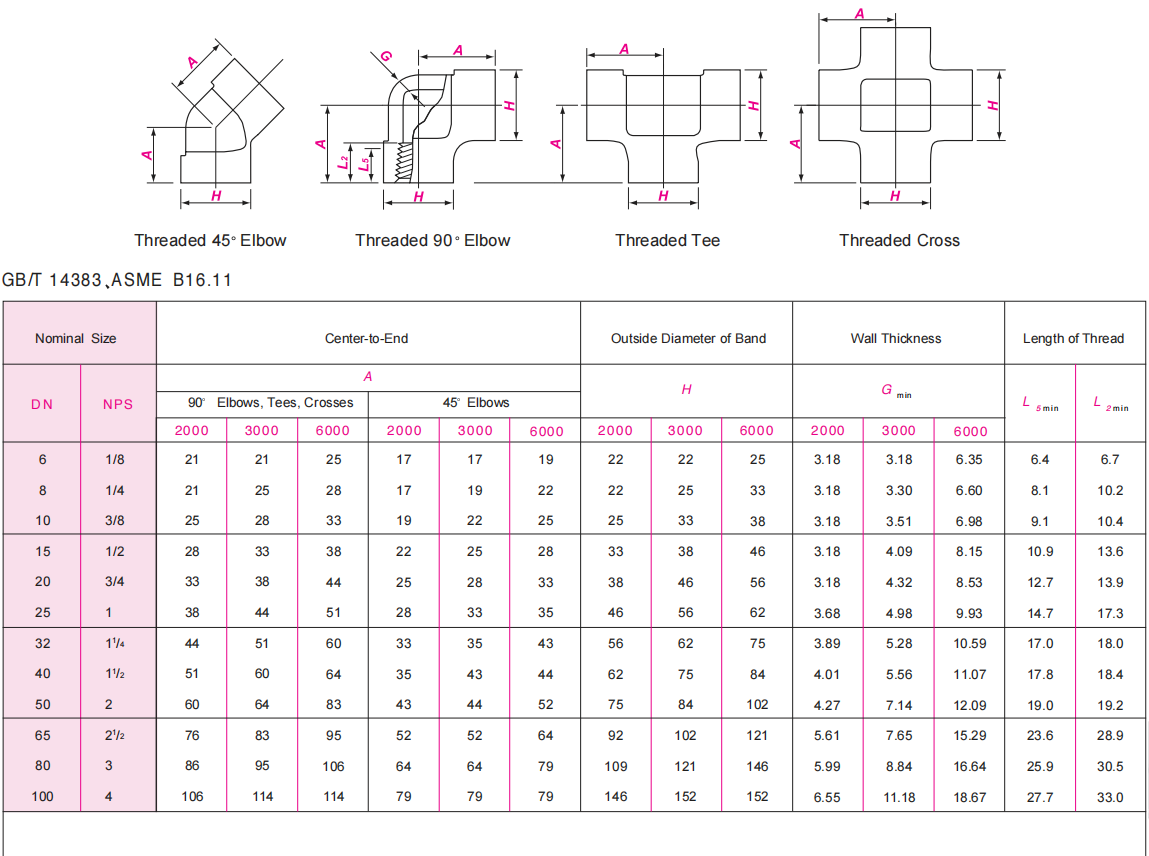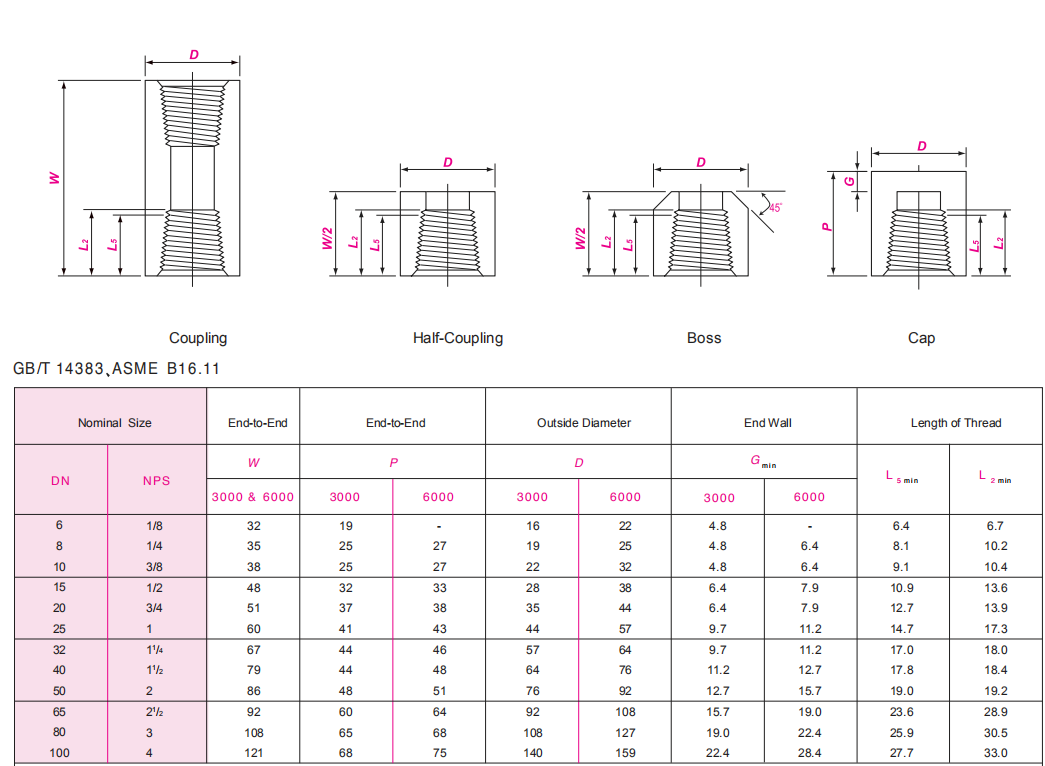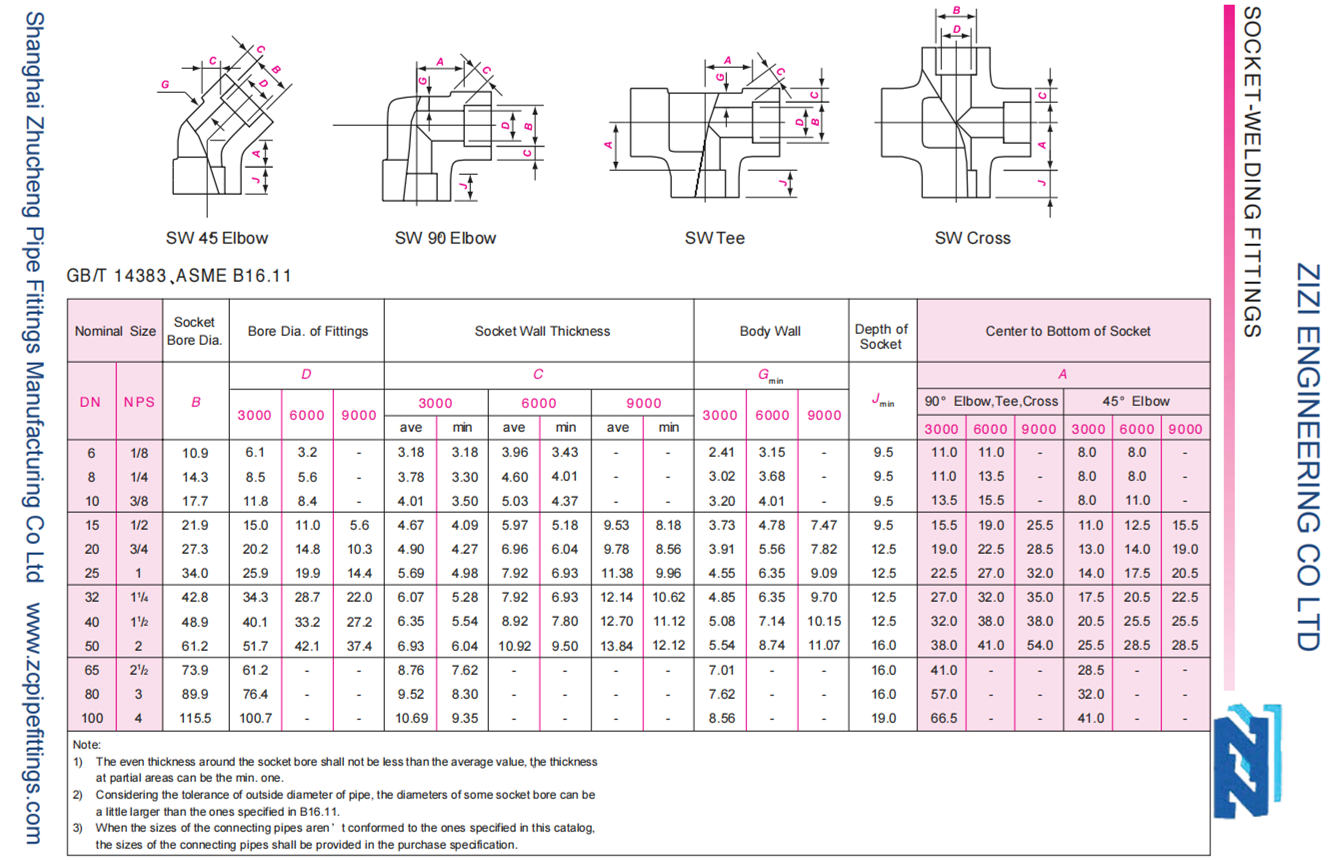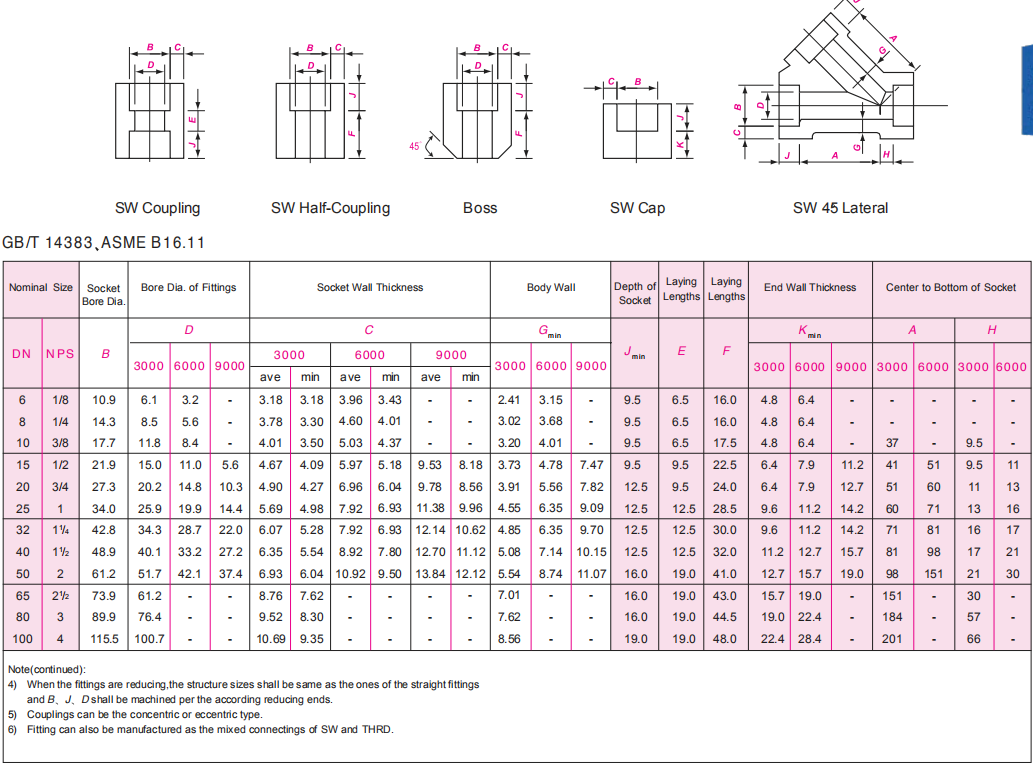 More Socket Weld Fittings