Stainless Steel ANSI Socket Welding fittings Sockolets
Size Range: 1/8″ –  4″ / DN6 – DN100
Schedule Chart: STD, XS, SCH 160
Standard: MSS SP-97
Carbon Steel: ASTM A105 / A105N
Low Temp Carbon Steel: ASTM A350 LF2/LF3
Pipeline Steel: ASTM A694 F42/46/56/60/65
Alloy Steel: ASTM A182 F11 / 12 / 5 / 9 / 91 / 92 / 22
Stainless Steel: ASTM A182 F304/304L/304H, 316/316L, 321, 310S, 317, 347, 904L
Duplex Stainless Steel ASTM A182 F51, F53, F44
Content
A Socket Weld Fittings is a pipe attachment detail in which a pipe is inserted into a recessed area of a Valve, fitting or flange. Once correctly inserted, fillet type sealing welds are applied to join the pipe to the fitting.
Stainless Steel Sockolet are used to provide an outlet area from a larger to a smaller pipe connection point.
The MSS-SP 97 specification covers the dimensions, the finishing, the tolerances, the testing methods and procedures, the marking, the material grades, and the minimum tensile strength requirements for 90-degrees integrally reinforced forged branch outlet fittings (welded and threaded).
Specification of Sockolet Fittings
Size Range
1/8″ –  4″ / DN6 – DN100
Schedule Chart
STD, XS, SCH 160
Standard
MSS SP-97
Carbon Steel
ASTM A105 / A105N
Low Temp Carbon Steel
ASTM A350 LF2/LF3
Pipeline Steel
ASTM A694 F42/46/56/60/65
Alloy Steel
ASTM A182 F11 / 12 / 5 / 9 / 91 / 92 / 22
Stainless Steel
ASTM A182 F304/304L/304H, 316/316L, 321, 310S, 317, 347, 904L
Duplex Stainless Steel
ASTM A182 F51, F53, F44
Sockolet Drawing and Dimension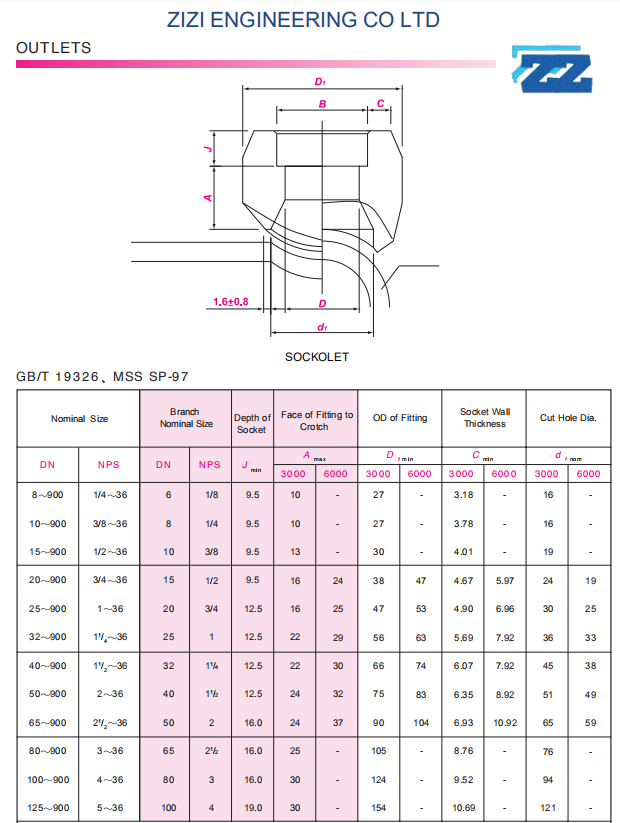 More Socket Weld Fittings