Carbon Steel A105 Socket Weld Elbow Dimensions
The socket weld elbow is resistance corrosion/pitting/oxidation/stress corrosion cracking and crevice corrosion
Content
Production Description
SW 45 Deg ELBOW
45 Degree Socket Weld Elbow is utilized to Put through two pipes with the same ostensible breadth to form the pipe turn 45 degrees.
SW 90 Deg ELBOW
Socket Weld 90 Degree Elbow makes 90°changes of course within the run of pipe to create a channeling framework.
Equal  Elbow
Carbon Steel A105 Socket Weld Elbow Dimensions  is an elbow with the same diameter at both ends, which is characterized in that the pipeline connecting the two necks belongs to the same specification.
Reducing  Elbow
Reducing elbows connect two pipes of different diameters to reduce the diameter when the pipe rotates.
Product features
The socket weld elbow is resistance corrosion/pitting/oxidation/stress corrosion cracking and crevice corrosion.
It is having high tensile strength and good dimensional accuracy to own
It withstands heavy loads and also withstands in the high-temperature atmosphere.
Socket weld Elbow forged fitting has varieties of features such as reliability, durability and dimensional precision.
Product Specification
| | |
| --- | --- |
| Size Range | 1/8″ –  4″ / DN6 – DN100 |
| Pressure Rating | Class 3000lbs, 6000lbs, 9000lbs |
| Standard | ASME B16.11, BS3799, EN 10241, MSS SP-83, MSS SP-97 |
| Carbon Steel | ASTM A105 / A105N, ASTM A350 LF2/LF3, ASTM A694 F42 / 46 / 56 / 60 / 65, P235GH, P265GH, P280GH, P355GH |
| Alloy Steel | ASTM A182 F11 / 12 / 5 / 9 / 91 / 92 / 22 |
| Stainless Steel | ASTM A182 F304/304L/304H, 316/316L, 321, 310S, 317, 347, 904L,1.4404, 1.4437. |
| Duplex Stainless Steel | ASTM A182 F51, F53, F44 |
Socket Weld Elbow Weight Chart in KG
Nominal Size

SW 90 DEGREE ELBOW
SW 45 DEGREE ELBOW
WEIGHT
WEIGHT
DN
NPS
3000
6000
9000
3000
6000
9000
6
1/8
0.09
0.15
–
0.08
0.16
–
8
1/4
0.09
0.15
–
0.08
0.16
–
10
3/8
0.12
0.32
–
0.12
0.28
15
1/2
0.26
0.40
0.85
0.22
0.30
0.78
20
3/4
0.35
0.65
1.48
0.28
0.72
1.25
25
1
0.52
1.25
2.20
0.55
0.90
1.85
32
1 ¼
0.85
1.4
2.90
0.71
1.15
2.62
40
1 ½
1.05
2.35
3.50
0.89
1.90
3.45
50
2
1.75
2.96
4.35
1.30
2.95
5.80
65
2 ½
2.80
–
–
2.68
–
–
80
3
4.60
–
–
4.90
–
–
100
4
9.60
–
–
8.80
–
–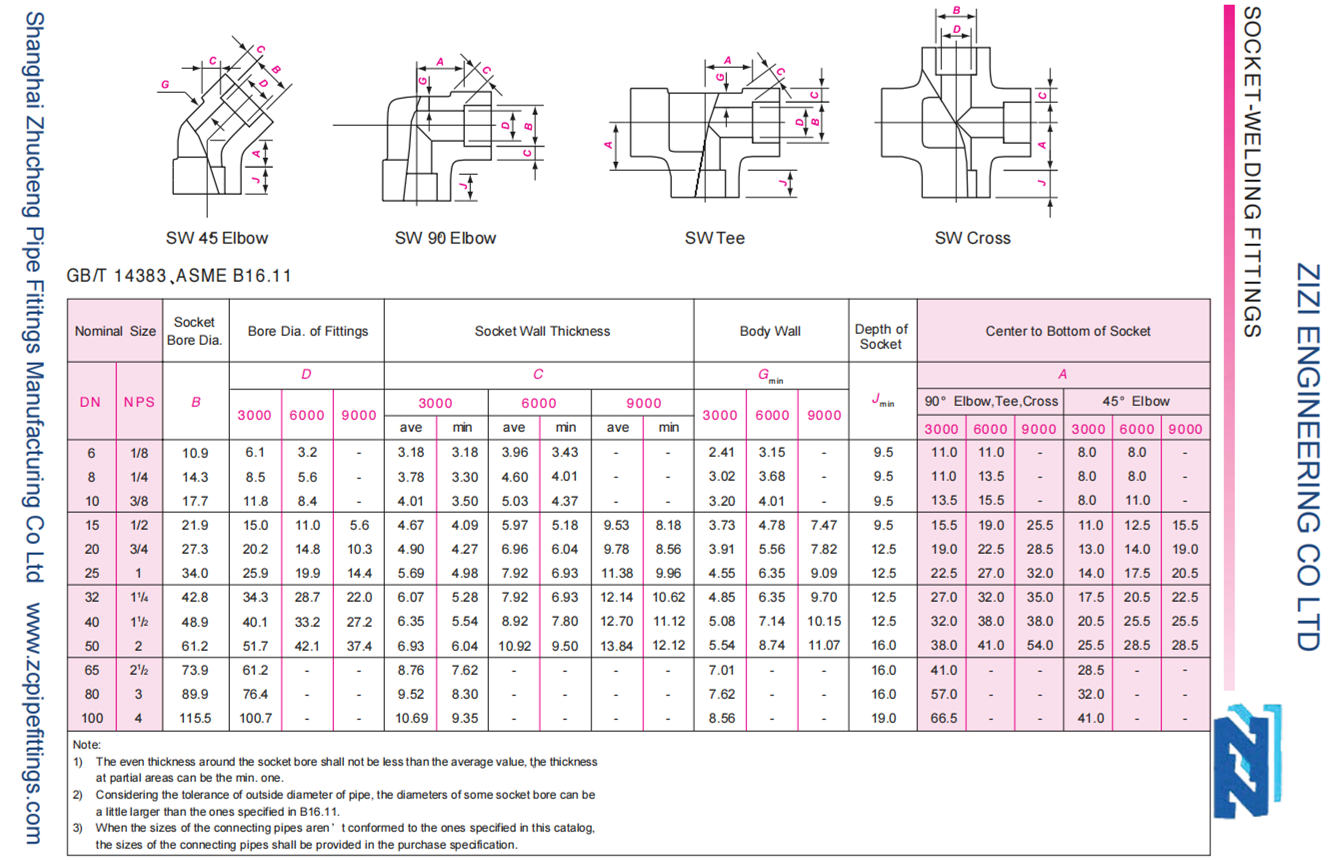 Production Material
A105 is a mild steel forging. The carbon content of carbon structural steel is about 0.05% ~ 0.70%, and individual can be as high as 0.90%. A105 is ASTM Standard number, where A stands for ordinary carbon structural steel. There is only one type of carbon steel forgings specified in this standard, and A105 is also a forged carbon steel. A105 is also a material code, belongs to special steel, is a kind of cold forging steel. A105 is a mild steel forging, similar to Steel 20
Carbon Steel ASTM A105  Chemical Composition
| | | | | | | | | | | |
| --- | --- | --- | --- | --- | --- | --- | --- | --- | --- | --- |
| Gr. | C | Si | Mn | P | S | Mo | Ni | Cr | Cu | V |
| A105 Forged Fittings | 0.35 | 0.10–0.35 | 0.60–1.05 | 0.035 | 0.040 | 0.12 | 0.40 | 0.30 | 0.40 | 0.08 |
Carbon Steel ASTM A105 Mechanical Characteristics
| | | | |
| --- | --- | --- | --- |
| Gr.                         | Yield Strength, Min (MPa) | Tensile Strength, Min (MPa) | Elongation, min, % |
| A105 Fittings | 250 | 485 | 30 |
Application:
Petroleum
Pulp/paper
Refining
Textile
Waste treatment, Marine
Utilities/power generation
Dimention Details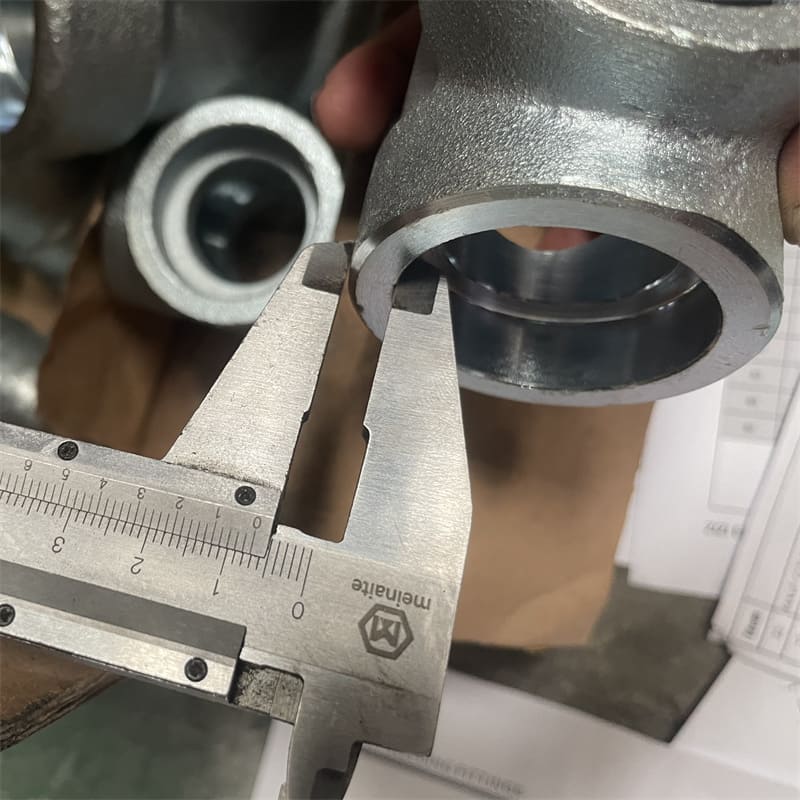 More Socket Weld Fittings